Name:
Meriadoc "Doc" Ebony
Alias:
The Field Processor
Age:
60
Gender:
Male
Ethnicity:
Caucasian
Hair:
Bald
Eyes:
Amber
Height:
5'9" / 175 cm
Weight:
130 lbs / 59 kg
Home City/Town:
The Under (Orre)
Personality:
Despite what his experience suggests, Doc is very much a laid back individual, one who lets mistakes go by and doesn't put an immense amount of pressure on those who he works with. This is speculated because he can see the potential that pokemon and people have within them, and merely believes in them. He is very much just a jolly old man who does Pokemon research in his own way.
His laid back nature also tends to make him seem jovial when faced with adversity, giving off the appearance of incredible confidence or blind arrogance. However, this is due to his experience causing him to become rather jaded in the importance of Pokemon battles and instead treats them like friendly exercise, even in situations where stakes are high.
Wherever it is, his patience does have a limit, and when it finally runs out, people know why he is held with such respect that he is; for his rage is as passionate as a forest fire, but as cool as a glacier. It comes subtle, and is quick, resulting in him making a split second decision that ends unfavorably for those who anger him.
Character Image/Description:
POKEMON
Name:
Splinter
Species:
Sudowoodo
Nature:
Adamant
Ability:
Rock Head
Moves:
Wood Hammer, Copycat, Low Kick, Rock Throw



Posts

: 1


Join date

: 2013-08-08



I see no issues. Approved.
_________________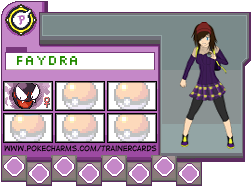 Administrator





Posts

: 22


Join date

: 2013-08-05


Age

: 26


Location

: Mistveil


Job/hobbies

: Pokemaster


Humor

: I will HM01 you.





Similar topics
---
Permissions in this forum:
You
cannot
reply to topics in this forum